Maria-Paula Carrillo, MS, RDN, LD, is a pediatric and family dietitian at LifeCycle Nutrition.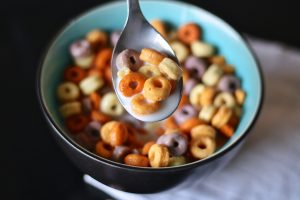 We all have heard that we eat too much sugar. True. Foods high in sugar don't pack much nutrition and a diet high in sugar leads to an array of conditions in children and adults—from cavities and obesity to type 2 diabetes.
New proposed guidelines from the World Health Organization (WHO) suggest that people (including children) eat less than 5% of their daily calories from sugar, versus the previous suggestion of 10%. This would average 19 g sugar/day (5 teaspoons) for a child… but the average American child consumes 24 teaspoons of sugar/day (5x this!).
These days we can find added sugar in almost everything. Yes, note that I mentioned "added sugar." There are natural occurring sugars in fresh fruit and unsweetened dairy that are not to be eliminated unless medically necessary.
Surveys have found that most children consume excessive added sugar from the following categories:
non-juice drinks — soda, sports/energy drinks
fruit drinks — fruit punch, juice flavored drinks (including 100% fruit juice – juicing removes fiber which provides satiety, so try whole fruit instead!)
grain-based sweets — snack cakes, granola, pastries, cookies
dairy desserts — pudding, ice cream, flavored yogurt
candy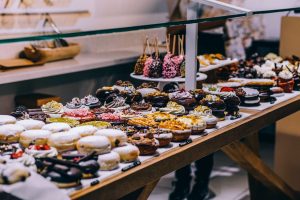 Don't overlook instant oatmeal, cereal bars, pasta sauce, dried/canned fruit, or applesauce.
My approach is not to eliminate specific foods, but to include more of the foods we are meant to eat. Focus on foods that nourish us and have more nutrient density. As family, work on eating more fruits and vegetables, whole grains, unsweetened dairy products, and protein-rich legumes and lean meats.
As a registered dietitian nutritionist and mother, I know that parents need practical suggestions to follow. Instead of having to count teaspoons of sugars our children eat, try the following:
Read labels and look for sources of sugar — evaporated cane juice, corn/high-fructose corn syrup, cane/brown/raw sugar, brown rice, maple syrups, honey.
Cook more meals at home using whole foods that are not overly processed. Meals do not have to be complicated or take a long time to prepare. Start with one meal/week and grow from there.
Snack on fruits and vegetables! As parents, we often forget that kids love fruits and even some vegetables. Take advantage of the sweetness of many of these and keep them handy for your child to eat.
Truly decrease sugary beverages — sodas, lemonade, fruit punch. Kids need water and milk. Kids don't need sport/energy drinks unless they're exercising for more than 60 minutes.
If planning a long day out or going on a road trip, pack your snacks ahead of time. Be prepared and prevent reaching for the vending machine or stopping at a convenience store to fuel their hunger.
The key is to teach children to appreciate whole foods and develop a healthy relationship with what nourishes their bodies. Focus on helping them understand that whole foods give us more power, nutrition, and strength!
If you would like more information about gastrointestinal (GI) digestive disorders and nutrition in children, please contact Dr. Mona Dave's Plano Office or Southlake Office.