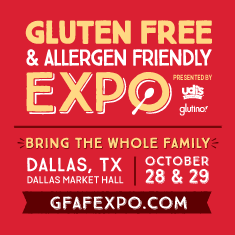 There's still time to make your plans to attend the Gluten Free and Allergen Free (GFAF) Expo coming to Dallas the weekend of October 28 and 29. This event is a great opportunity for local families with pediatric gastroenterology and abdominal health issues to learn more about these specific conditions.
What:
The GFAF Expo is a great resource for children with Celiac Disease. In addition, the GFAF Expo also welcomes those with gluten sensitivity, auto-immune diseases, and autism. Attendees will have a chance to sample hundreds of gluten-free products as well as meet with national and local brands and attend informative presentations by renowned speakers.
When:
Saturday, October 28, 2017 from 10am-4pm
Sunday, October 29, 2017 from 10am-3pm
Where:
Dallas Market Hall-North Hall (public enters off Market Center Blvd.)
2200 Stemmons Freeway
Dallas, TX 75207
(214) 655-6100 or (214) 744-7444
What do you get with your Expo Ticket?
Entry into the vendor fair with 100+ exhibiting brands
Coupons from the best gluten-free & allergen-friendly brands
FREE samples from exhibitors- baked goods, pizza, healthy options & more
Discounted products available for purchase
Free reusable bag to carry your goodies
The chance to meet your favorite brands, restaurants, authors & bloggers
Informative classes related to the gluten-free & allergen-friendly lifestyle
Daily Details and Notable Speakers:
Saturday, October 28, 2017
10:30-11:30 Tiffany Hinton
"5 Steps to Healing Your Inflammation" – This educational course will teach you the five steps to heal your inflammation. Tiffany Hinton will share the answers you have been looking for to heal your gut and make your pain go away!
12:00-1:00 Dr. Christina O'Brien, DC, RD, DACNB
"Why Your Gluten-Free Diet Needs To Evolve" – Not all grains contain gluten, but they do contain gluten-like proteins which cross-react for gluten-sensitive individuals and in some cases produce stronger reactions than gluten alone. Gluten and gluten-cross reactors also have the ability to harm the brain. Learn how to identify potentially harmful triggers and successfully navigate the world of gluten-free living while promoting gut and brain health.
1:30-2:30 Elizabeth Anthony Gronert
"Skin Problems & Natural Treatments That Work!" – Everyone has something that bugs them about their skin, but many have skin problems that interfere with their daily comfort. Elizabeth Anthony Gronert, a licensed esthetician for over 30 years, will reveal ways to tend to flakey & dry skin with complications like eczema, psoriasis, and dermatitis. She will also discuss successful regimens to care for acne, rosacea, overexposure, diaper rash, bumpy upper arms, hangnails, ingrown hairs, ashy skin, cracked heels, and fungus. Don't miss this helpful guidance on simple ways to care for your skin and keep it healthy.
Sunday, October 29, 2017
11:00-12:00 Lexy Brown
"Healthy GF Living Seminar" – You'll learn the basics of the healthiest approach to gluten-free living. We will share shopping tips and cooking tips for gluten-free living as well as advice on dietary supplements for nutritional support.
1:00-2:00 Joanna Baker APD
"Gluten v's FODMAPs" – Explaining the myths surrounding gluten and FODMAPs and why people still may have IBS type symptoms even when they are following a gluten-free diet. Understand why a low FODMAP diet is not gluten-free.
For more information about GFAF Expo visit www.gfafexpo.com
If you would like more information about gastrointestinal (GI) digestive disorders and nutrition in children, please contact Dr. Mona Dave's Plano Office or Southlake Office.