Grocery shopping for a child with food allergies can be a daunting task. Feeling concerned and frustrated is understandable since eating is such an integral part of providing for your child's health and well-being. Every week, Angela Lemond and her team at Lemond Nutrition meet with parents that are at a loss for what to feed their allergic child. Lemond Nutrition uses the ShopWell mobile phone application to help educate parents on how to purchase safe foods for their allergic child.
The Mobile App to Amp Your Food-Buying Confidence
ShopWell is a mobile phone application that allows you to enter foods that you want to avoid, help manage a condition or reach a health goal. Once you have entered in that information, the app allows you to run food searches. For example, if your child needs to exclude the top 8 allergens from their diet- no milk, wheat, eggs, soy, peanuts, tree nuts, fish and shellfish, then what is left to eat? Well, let's see…
First, you add all the food restrictions. Then you want to see what bread you can give your child. Next, go to the search screen and enter "bread." Here is what comes up: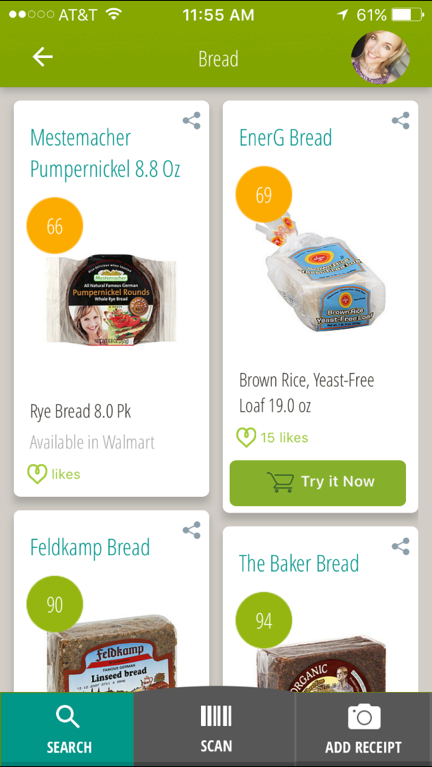 You might wonder if the bread you have at home fits the plan? No problem. Go the scanner in the app and scan the barcode. This is what you get: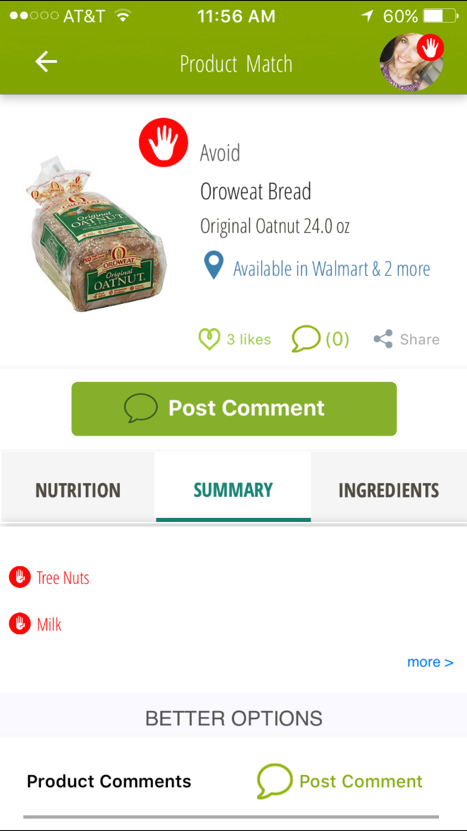 Want to try another food? Plug in crackers or cereal or even granola bars and see what you get.
ShopWell even has a feature in your profile where you can add restrictions in your ingredient list to include added sugar, high fructose corn syrup, preservatives and color additives.
Need Food Suggestions for Other Health Conditions and You Don't Have Time to Read a Food Label?
ShopWell helps zone in on better products that improve and optimize your health with their rating system. Enter your goals in your profile and let the app do the work. You can scan a product in the store to get the rating system. ShopWell's rating system is broken down into a number rating that ranges from 0-100 with 100 being the best score.

Seek guidance from a pediatric registered dietitian nutritionist (RDN), such as the Lemond Nutrition team, if your child's doctor advises an exclusion of one or more food groups. With your child's growing body, food restrictions should be done conservatively and balanced to ensure there are no nutritional shortfalls created by those exclusions.
To learn more about Lemond Nutrition, join them for the Open "Farmhouse" Event and tour their new Plano location. In addition to the tour, they will have food demos with a dietitian chef, a "flavor lab" for kids only, national author Heather Mangieri doing a book signing for her book Fueling Young Athletes, free food from Wholesome Grub and more! Mark your calendars for Saturday, January 13, 2018 from 10AM -2PM. Everyone's invited, so bring the whole family.
If you would like more information about gastrointestinal (GI) digestive disorders and nutrition in children, please contact Dr. Mona Dave's Plano Office or Southlake Office.