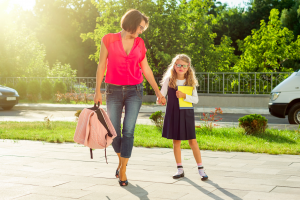 On October 4, 2017, thousands of schools and communities throughout the country will be participating in Walk to School Day.
The daily recommendation for physical activity for children 6 years and older is at least 60 minutes per day. The 60 minutes does not need to be done all at once. Physical activity can be broken down into shorter blocks of time such as walking to and from school, playing on the playground, and jumping rope.
Unfortunately, less than 25% of children in grades 4 through 12 participate in 20 minutes of vigorous activity or 30 minutes of any physical activity per day. Pediatricians continue to be disturbed by the trends in the lack of physical activity of children. Physical activity has many health benefits including:
Stronger bones and joints
Greater muscle strength
Improved flexibility
Reduced risk of developing heart disease and high blood pressure
Reduced risk of developing diabetes
More energy
Improvements in self-confidence and self-esteem
Better concentration at school
Improved Digestive Health
Research has shown that physical activity may help relieve bloating and gas in patients with Irritable Bowel Syndrome. There is also evidence that daily exercise improves constipation symptoms by stimulating the natural contractions of the digestive system and accelerating how quickly food moves through the digestive tract.
Two different studies have shown that taking a short, 15-minute post-meal walk can aid in digestion. One study showed that walking after eating increased stomach emptying. Another study showed that walking following a meal leads to a decrease in blood sugar levels. Essentially, walking after a meal clears glucose from the bloodstream and helps food move through your child's digestive system quicker.
Walking to school incorporates regular physical activity into each day and helps your child form healthy habits that can last a lifetime. Regular physical activity not only helps children build strong bones and decreases the risk of obesity, but it also helps the digestive system.
Join students, families, school leaders, and community partners around the country on October 4 to celebrate the benefits of walking to school during Walk to School Day!
If you would like more information about gastrointestinal (GI) digestive disorders and nutrition in children, please contact Dr. Mona Dave's Plano Office or Southlake Office.