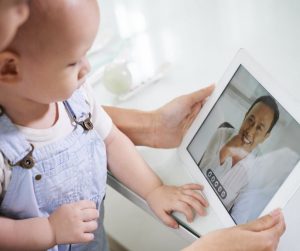 Over the past few months, I have gone from caring for all my patients in the office to seeing many of them virtually. For me, it has been an amazing experience to be able to use technology to connect and help my patients while still practicing social distancing. Telehealth has actually been around a lot longer than most of us know. However, the COVID-19 pandemic has brought telehealth to the forefront as physicians try to keep non-COVID people out of the hospital while still providing excellent care to families.
During a telehealth visit, I use a secure, HIPPA-approved video conferencing platform to perform an office visit remotely. I have found certain "tips" help the visit run smoothly.
What you will need for the telehealth visit:
Access to your child's TDDC patient portal.
Instructions for the telehealth visit and portal forms will be sent in advance of the visit and will need to be completed before the appointment
A computer, tablet, or smartphone with a microphone and camera
A reliable internet connection
*Check your technology before the visit. Is your computer's microphone working, is your internet connection strong where you're sitting and is the volume turned up on your computer?
Find the perfect location:
Choose a quiet space that is free from noise and distractions. A carpeted room will minimize echo.
Set your camera so it is at eye level for your child and for you. If you are using a phone or tablet, lean it against something so you do not have to hold it.
Close any blinds and adjust your lighting. Make sure there is no light or window directly behind the camera to avoid glare.
Be prepared to adjust your camera when your child needs to be examined.
How to prepare your child for the visit?
Pick an appointment time when your child is likely to be fully awake.
Avoid multitasking during the appointment.
For young children (infant, toddler, or younger preschooler) it may be helpful to have another parent, older child, or caregiver nearby to help.
Keep toys, books, a bottle, or sippy cup handy to help soothe and engage your child throughout the visit.
For older school-age children, sit next to them during the visit so the physician can talk to both of you during the visit.
Gather important information before the session starts:
A list of your child's current prescription medications, over the counter products, and supplements with dosages.
Your child's current weight.
Pen and paper.
Discuss ahead of time and be prepared to answer a variety of questions, including how the symptoms have been occurring, when the symptoms are most severe, and any other related details.
A list of questions you and your child have.
What happens after the visit?
Your child's appointment will be documented in your child's electronic medical record and a copy will be sent to the pediatrician.
A summary of the visit will be sent to your child's TDDC patient portal.