Holiday shopping is in full swing. Children all over the world are anxiously awaiting the new toys they will receive. This year there are some amazing toys and gadgets available for toddlers, teenagers, and adults. When holiday shopping, keep in mind that toys should be safe for everyone living in the home as well as for guests who come to visit.
One of the most dangerous hidden hazards in many popular toys and gadgets are magnets. Some magnets found in children and adult toys can be extremely powerful. Young children often swallow these magnet balls because they are small, shiny, and attractive. Older children use the magnets to mimic jewelry piercings in their mouth. If these powerful magnets are accidentally swallowed, they can attract one another inside the digestive system. The magnets can pull together with enough force that results in serious life-threatening injuries, such as intestinal blockage, holes in the stomach and intestines, and even death. The tricky issue with high-powered magnet ingestion is that symptoms, such as abdominal pain, vomiting, and diarrhea can take up to 8-24 hours to develop and can often mimic similar symptoms as a stomach bug. Parents may not always be aware that their child swallowed these high-powered magnets and therefore seeking care from a health care provider may be delayed.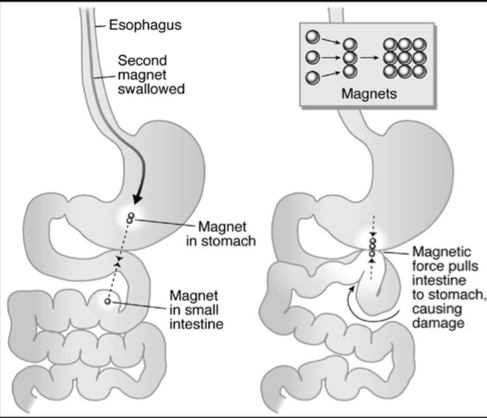 The U.S. Consumer Product Safety Commission had issued a ban on high-powered magnets. However, in November 2016, the ban on high-powered magnets was overturned. These high-powered magnets are now back on store shelves and are being sold at stores around the country. Before the ban on these products, thousands of people, many of them children, ended up in emergency rooms with injuries. After the ban, these injuries dropped dramatically. Since high-powered magnets are back on the market, it is crucial for parents to be aware of the danger they can cause.
This holiday season, avoid buying toys and gadgets with high-powered magnets. Remember to keep products with small or loose magnets away from young children who might swallow them and talk to your older children about the serious dangers associated with using magnets as fake piercings in their mouths or noses.
If you would like more information about gastrointestinal (GI) digestive disorders and nutrition in children, please contact Dr. Mona Dave's Plano Office or Southlake Office.