My father grew up in India without a toilet. I spent my childhood summers in India without a toilet. This was shocking news to my twin girls who take the toilet for granted.
Most of us would never imagine pooping anywhere besides in a toilet. However, 4.5 billion people in the world live in a household that lacks a toilet or safe sanitation services to dispose of their waste. Even in America, 1.19% of households do not have a flush toilet. Instead of pooping in a toilet, they practice open defecation, which means they poop outside. This leads to human waste contaminating our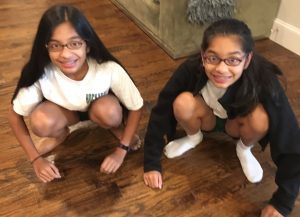 communities, waterways, and food, making people seriously ill. More than 360,000 children worldwide under the age of five die each year due to diarrheal illnesses caused by poor sanitation. Sustainable sanitation is a basic human right. Sustainable sanitation is crucial to improving the health and wellbeing of humanity.
World Toilet Day (http://www.worldtoiletday.info/), November 19, was started by the United Nations in 2013 with a goal to tackle the global sanitation crisis and end open defecation. The United Nations is working towards everyone having access to a safely managed household toilet by 2030.
What can you do to help on World Toilet Day?
Stop, Drop, and Squat!
Stop, drop, and squat! Get friends, classmates and family together and squat in a public place. Take a photo or video, and share it on social media using the hashtags #bigsquat, #worldtoiletday and #opendefecation. Did you know that more people own a cell phone than have access to a toilet? Next time you go to the bathroom, think about how lucky you are and encourage others to join the sanitation movement.
Talk Toilets
Does your town need new public toilets? Are the toilets safe and accessible, clean and well-maintained? Is there an appropriate ratio of toilets for men and women? Clean and safe toilets are fundamental for health. Contact your local representative or community leader and let them know you care about public toilets in your area.
Learn and Educate Others
Hundreds of children are dying each day from diarrheal illnesses caused by poor sanitation. These deaths are preventable. Break the toilet taboo by talking "crap" with friends, family, and neighbors. Meet Mr. Toilet (https://vimeo.com/34792993) and learn what he is doing to end the sanitation crisis. Remember, what you don't talk about, you can't improve!
Access to sanitation will make life safer for everyone. Join the global movement for toilets and sanitation for all. In honor of World Toilet Day, FLUSH – The Documentary (http://thepoopproject.org/flush-home/) will be available free, streaming online, courtesy of The POOP Project. Sounds silly but, as recent storm devastation has shown, safe sanitation is serious business.
If you would like more information about gastrointestinal (GI) digestive disorders and nutrition in children, please contact Dr. Mona Dave's Plano Office or Southlake Office.