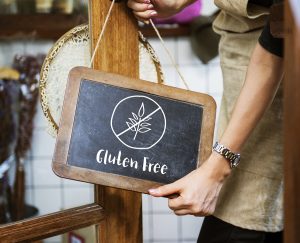 Dining out may seem daunting if you have a child that has a gluten sensitivity or Celiac Disease, but it boils down to these three simple steps:
Choose a restaurant that has a gluten-free menu or gluten-free options.
Call or visit the restaurant during non-busy hours and ask them:
At the restaurant, always inform your waiter that your food must be free of gluten.

Be polite but ask the waiter if he/she understands what gluten-free means and, if they do not, then ask to speak to the chef
Keep in Mind the Dirty Dozen
Are there croutons on the salad?
Does the salad dressing contain any flour?
Does the soup contain any flour?
Has the food been marinated in any sauce that has flour or soy?
Has the food been dusted with flour before being fried or sautéed?
Is the oil used for cooking also used to make other breaded products?
Are artificial bacon bits or other meat substitutes used on potato skins and salads?
Are the mashed potatoes from a mix?
Is there any imitation crabmeat or seafood?
Does bread come with the dish?
Is the garnish gluten free?
Are there breadcrumbs on the food?
Eating Out in DFW
The Dallas Fort Worth Area has several restaurants that offer gluten-free choices:
Boston's Restaurant & Sports Bar
Rudy's Country Store and Bar-B-Q
Texas Land and Cattle Steakhouse
If you would like more information about Celiac Disease or gastrointestinal (GI) digestive disorders and nutrition in children, please contact Dr. Mona Dave's Plano Office or Southlake Office.