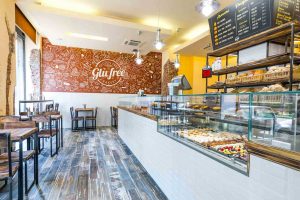 As more children are being diagnosed with celiac disease, it has become much easier to find gluten-free options near home. Celiac disease is a life-long allergy to gluten. Gluten is the protein found in wheat, barley, and rye. The treatment for celiac disease is a diet free of gluten for life. Fortunately, eating gluten-free is becoming easier.
Several food companies make bread products and pasta from potato, rice, corn, or soy.
Local Oven is a gluten-free company that offers a wide variety of products such as sliced bread, hamburger and hot dog buns, hoagie rolls, tortillas, brownies, and pasta.
Grocery Shopping
Most grocery stores have a gluten-free section with cereals, snacks, and baked goods that are made without gluten. Some of the local grocery stores near my Plano and Southlake offices that stock gluten-free products include:
Kroger
Super Walmart
Central Market
Sprouts
Whole Foods
Natural Grocers
Herb Mart
Market Street
Market Street even offers free tours with a registered dietitian to learn how to shop gluten-free. You can sign up here.
An app my patients have found very helpful to have when grocery shopping is The Gluten Free Scanner.
This app is simple and fast and uses your phone camera to scan the barcodes of products. The app has the largest database of food and drink products to detect the presence of gluten.
Going Out to Eat
There are also several local restaurants and bakeries that offer gluten-free options that are safe for children with celiac disease:
Fireside Pies offers delicious gluten-free pizza
California Pizza Kitchen has gluten-free pizza options
Liberty Burger offers gluten-free burgers
Chips Old Fashioned Hamburgers has dedicated gluten-free fryers
Chick-fil-a has an "allergy-alert" option for someone with gluten allergies
Red Robin has gluten-free all you can eat fries and has an interactive allergen menu.
Even if a restaurant advertises gluten-free items, it is important to still communicate that you have celiac disease and the food must be 100% gluten-free. You are more likely to get a safe meal if you call the restaurant ahead of time to let them know of your gluten-free needs. Ask to speak to the manager or a chef. Review the restaurant's menu online before you go and watch out for terms such as crispy, crunchy, and breaded because those items might contain gluten. While at the restaurant, communicate your needs clearly and assertively. It is important to ask your server what is in the food and how it is prepared. Menu descriptions do not always list every ingredient. Find out how gluten-free grains such as rice and risottos are cooked. Sometimes they are cooked in a broth which may contain gluten. Confirm that separate, clean utensils and equipment will be used for your meal. After you leave, spread the word about good service to the gluten-free community.
When You're on the Move
An excellent free app to download is Find Me Gluten Free. This app helps you easily eat gluten free no matter where you are. This app is great locally as well as on vacation. The app locates stores and restaurants that offer gluten-free foods.
Remember that fresh fruits and vegetables contain no gluten and make an excellent snack when you are on the go!
If you would like more information about celiac disease or gastrointestinal (GI) digestive disorders and nutrition in children, please contact Dr. Mona Dave's Plano Office or Southlake Office.
SaveSave
SaveSave