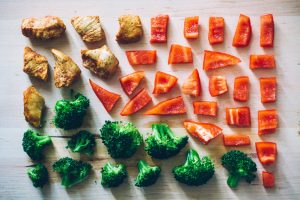 As a registered dietitian nutritionist working in a major pediatric facility, I saw a need in the Dallas / Fort Worth area. There was nowhere that provided the required time and support that families needed in the area of food and nutrition—whether it be for a medical need, behavioral aspects with food, or general adequacy in growing children. Out of this deficiency, Lemond Nutrition was born in 2009. I left the hospital setting and started a nutrition private practice that spends 90 minutes in the first session to fully learn about the unique needs of a patient in need. Imagine having an infant, child, or adolescent having a severe nutrition issue that could affect immediate and long-lasting growth. It can be very scary for parents, and they require the hands-on support of pediatric specialists that can meet them right in their unique situation. As you know, kids are not cookie cutter. Each child is very unique, and every need is different. This is why we take the time to fully understand the needs of that person and family, so we can customize a plan that a mom or dad can leave confident with after the first session.
We are insurance providers, and accept several nutrition plans. In many cases, insurance will cover the cost to see a dietitian without additional cost.
Our Mission: To foster health and healing using evidence-based nutrition therapy in a compassionate and loving environment consistent with principles founded in love, honesty, respect, responsibility, and service.
Our Vision: To be the most trusted food and nutrition partner for the individual, the healthcare professional, and the community.
Our Motto: To change the way you think about food.
We see people of all ages starting from infancy to senior care. Pediatric specialty areas include:
Failure to Thrive/Lack of Weight or Height Growth
Weight Management
Picky Eaters
Special Diets
Food Allergies & Intolerances
Celiac Disease
Eosinophilic Esophagitis
Inflammatory Bowel Disease
Irritable Bowel Disease
Stages of Feeding by Age
Enteral (Tube) Feeding
Maternal Nutrition
Lactation Nutrition
Athletic Nutrition
Disordered Eating
Oncology Nutrition
Cardiology
We also see adults. Our adult and family nutrition guidance and support empowers a person to live the right way by eating for general health or for a special health condition. Our adult and family specialties include:
Weight Management
Heart Health
Diabetes and Pre-Diabetes
Food Allergies & Intolerances
Celiac Disease
Inflammatory Bowel Disease
Irritable Bowel Syndrome
Emotional & Disordered Eating
Oncology
Cardiology
Family Nutrition
Meet Our Team

There is a face to that name! We are experts in our field, but more than anything, we are a Lemond Nutrition family. We thoroughly enjoy collaborating with each other and our patients/clients. We invite you to meet the people behind the brand.
Angela Lemond, RDN, CSP, LD

Plano Office:
Angela is a board certified specialist in pediatric nutrition with over 13 years of experience in growing children through targeted nutrition. Angela trained in all areas of pediatric care in the inpatient setting at Children's Medical Center (now Children's Health) with extra time in cardiology, gastroenterology, and weight management. Her special interests include the behavioral aspects of feeding children and guiding adults to care for their own food intake with the goal of maximizing life. She loves working with families, and often gets recruited to help other members within the same family after maximizing the nutrition of one. Although Angela loves her work, her favorite role is of mother to her two children, Hannah and Evan.


Lauren Morris, MS, RDN, LD

Plano & Rockwall Office:
Lauren is a pediatric and family specialist with a subspecialty in eating and feeding disorders. She is very conscious of her approach to her food interventions; that they are customized especially for the person in front of her. In the adult areas of practice, Lauren has experience in long-term care and outpatient care working with a multi-disciplinary team to maximize outcomes.




Keri Stoner-Davis, MS, RDN, LD

Plano Office:
Keri graduated with a specialty in exercise and sports nutrition from Texas Woman's University. However, she served as a manager in the inpatient setting with specialties of all areas of practice. She is also a pediatric and family specialist with an emphasis on the divisions of responsibility when it comes to feeding children. With her own challenges with her own child, she has developed an extra amount of patience with even the most challenging cases.




Emily Dudensing, RDN, LD
Clinical Manager

Plano & Rockwall:
Emily is the clinical support staff that ensures the highest in patient care. She supports the practitioners in their ongoing clinical education, work efficiencies, and maintains internal policies and procedures. Emily moved from Rockwall to Lubbock last year, and is currently working remote. She just had her 2nd child, and plans to explore the possibilities of opening a location in Lubbock, Texas. Stay tuned!


Ali Barrett
Medical Office Administrator

Plano & Rockwall:
Ali Barrett brings to our team over 16 years a medical insurance knowledge, as well as front office knowledge. We are thrilled to have Ali on our staff to gently handle all calls, verify insurance, and process benefits for our patients. We call Ali "The Glue" of Lemond Nutrition, as she works tirelessly behind the scene to ensure the practitioners have what they need to maximize patient care.
We have two locations for you, and we now offer both late evening and weekend appointments. Call us today and let us know how we can support your unique nutrition needs, whatever they may be. It would be our honor to help you.
ROCKWALL LOCATION

101 S. Fannin Street, Suite 104
Rockwall, TX 75087
PLANO LOCATION

555 Republic Drive, Suite 200
Plano, TX 75074
Ph: 972-422-9180
Fax: 888-821-2292
For more information, visit us at lemondnutrition.com.
Dr. Dave works closely with Lemond Nutrition to help meet her patients' needs. If you would like more information about gastrointestinal (GI) digestive disorders and nutrition in children, please contact Dr. Mona Dave's Plano Office or Southlake Office.